RMU Cabinet
An RMU (Ring Main Unit) cabinet is an integrated electrical device used to connect, measure, and incorporate fixed type circuit breakers to protect transformers in substations. With its small size, high reliability, safety, and ease of maintenance, an RMU cabinet is an ideal solution for indoor or outdoor installation. It is available in various voltage ratings to meet your requirements and can be easily expanded when needed.
The installation process of the Eaton Cooper 6-compartment RMU cabinet video
RMU Cabinet Structure
The RMU cabinet is connected through the input and output cable compartments using insulated load switches, along with the output cable compartment for the transformer which uses a fuse combination unit for protection.
The switching device consists of a load break switch, a circuit breaker, an earthing switch, a busbar, and connection terminals. The components are housed in a SF6 gas tank to ensure durability and resistance against harsh environments, oil and grease, and corrosion.
The RMU cabinet is divided into separate compartments and connected together through individual cable compartments. It can be designed in various sizes and configurations, such as 2-compartment, 4-compartment, or 6-compartment RMU cabinets, depending on the customer's requirements.
Quang Anh install RMU cabinet
Electric Power company and private customers have now switched to using self-powered relay cutouts instead of medium voltage fuses to improve service quality while reducing investment costs. These cutouts are placed in an RMU cabinet with SF6 gas insulation, self-powered relays, and optimized current transformers to coordinate protection on both the upstream and downstream sides.
In summary, an RMU cabinet is designed with components such as isolating switches, circuit breakers, grounding switches, busbars, and terminals, protected by SF6 gas to connect, measure, and protect transformers. It can also be customized with various standards and used as a cost-effective solution for power grid projects.
Functions of RMU
The RMU electrical cabinet has important functions such as:
Circuit control: Control the circuit to perform necessary functions. Isolation: Isolate faulty equipment from other parts of the circuit. Protection: Protect the circuit from incidents such as short circuits, current faults, and overloads
Quang Anh install T-plug for RMU
The combination of circuit breaker with relay in RMU improves the selectivity protection, prevents misoperation with transient current from the transformer, and detects low-level phase-phase and ground fault.
RMU is widely used in various fields, including switching input for transformer substations, switching for transformer banks, and secondary distribution networks.
Advantages of RMU cabinet
RMU (Ring Main Unit) is an innovative solution that helps manage many challenges in power distribution easily and efficiently. Considered an all-in-one solution, RMU is a safe, easy-to-install, and maintenance-free switchgear that enhances the reliability and uptime of the network while reducing operating costs.
RMU reduces maintenance and spare part replacements as it integrates self-checking features and can easily check the protection circuit during the testing phase with simple testing devices. RMU also has better durability in harsh environments, with the circuit breaker inside the cabinet placed in SF6 gas-filled compartments, so it is not affected by environmental conditions.
Quang Anh installed a 3x240mm2 underground cable to a 6-compartment RMU
Furthermore, RMU improves protection against overload, phase-phase faults, and low-current ground faults, and coordinates well with other medium and low voltage protection devices. Its compact and feature-rich design requires minimal space for installation and operation, saving time and costs.
RMU also ensures safety and performance with its modern and compact design and the latest technology, and can be made intelligent with smart electronic devices and communication capabilities, easily integrated with Distribution Management System and in building Smart Grid solutions. The device has a lifespan of over 20 years and operates stably in any harsh climate conditions, ranging from -25°C to +40°C.
Types of RMU cabinets
There are many methods to classify products and name them. However, RMU cabinets can be classified according to different criteria. Firstly, we can divide RMU cabinets into two types based on their structure: Extensible and Compact cabinets.
In addition, RMUs can also be classified based on the type of quenching medium used in the gas chamber and their insulation properties. Specifically, RMUs can be divided into the following types: Air-insulated RMUs, Vacuum-insulated RMUs, and SF6 gas-insulated RMUs.
Finally, RMUs can also be classified based on their voltage rating, including 24kV RMUs and 36kV RMUs.
Brands of RMUs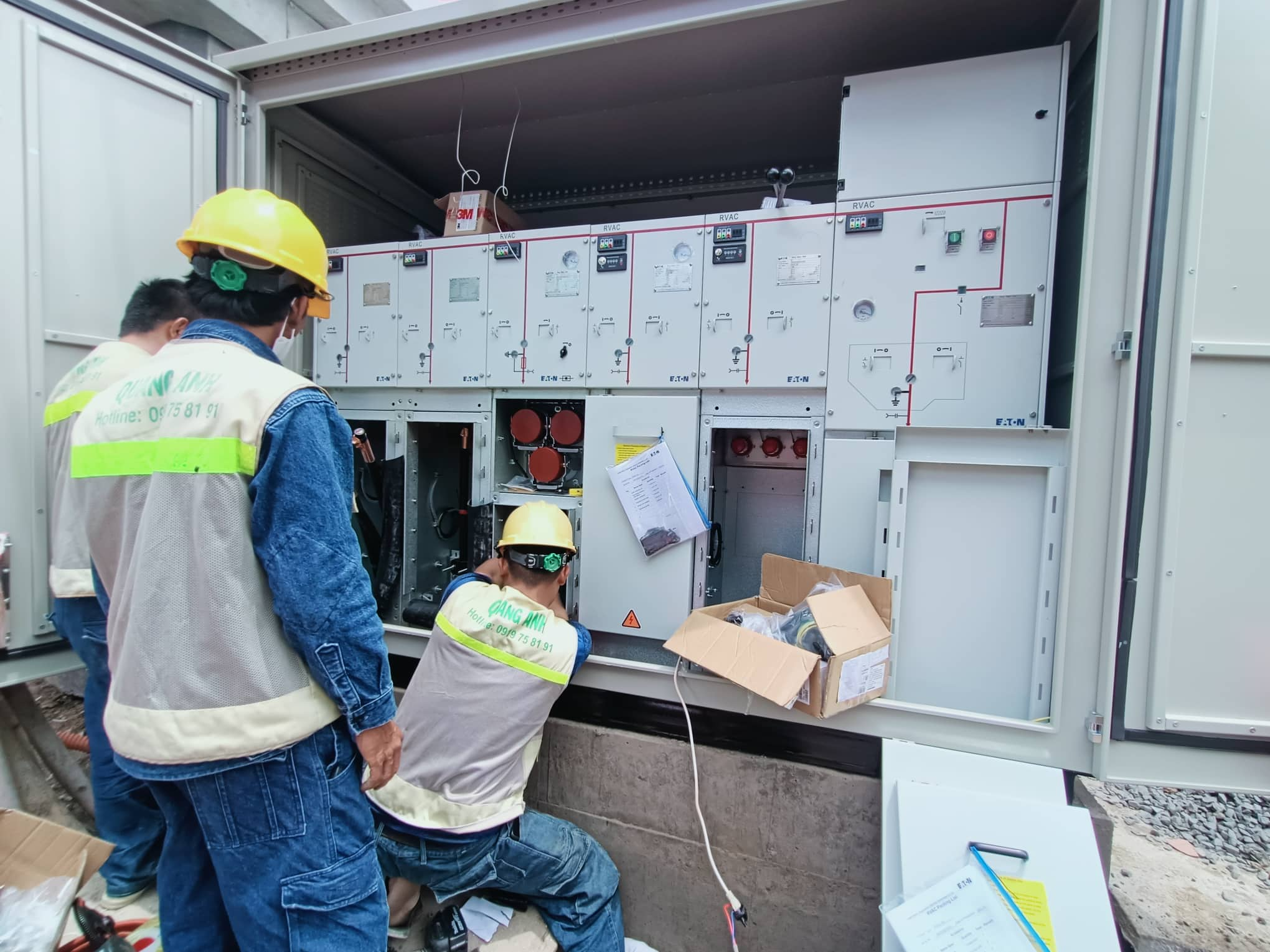 Currently, in Vietnam, RMU cabinets are widely used for primary switching stations and mainly imported from foreign countries from major brands such as Eaton (Cooper), ABB (Sweden), Siemens (Germany), Schneider (France), etc. Among these types of RMU cabinets, Eaton (Cooper) RMU cabinets are trusted and used more by customers because of their outstanding advantages and reasonable prices.
See article: Construction of RMU cabinet foundation
Xay Lap Dien Quang Anh provides installation and supply of RMU cabinets from brands such as Eaton, Schneider, ABB, Siemens.
At Quang Anh, we specialize in providing and installing high-quality RMU cabinets to meet the increasing demand of customers in Vietnam.
We are committed to delivering high-quality RMU cabinets from world-renowned brands such as Eaton, ABB, Siemens, Schneider, with a variety of cabinet types for customers to choose from according to their specific needs.
With a team of experienced and extensively trained technicians, Quang Anh guarantees the highest standard of installation to ensure safety and efficiency for our customers.
In addition to providing and installing RMU cabinets, we also offer maintenance and repair services for RMU cabinets to ensure the stability and sustainability of the electrical system.
If you have a need for RMU cabinets, please contact us for the best advice and support. Xay Lap Dien Quang Anh is committed to bringing customers absolute satisfaction and trust.
Watch the real-life construction video of Xay Lap Dien Quang Anh at  Quang Anh Youtube Channel