Quang Anh Electrical System – Installing 630KVA Substation in VSIP 1 Industrial Park
Project Description:
The project involves upgrading the capacity of the existing 250kVA (22/0.4kV) transformer substation to 630kVA (22/0.4kV) (No.01-2) using the existing power supply submarine cable. From the low-voltage side of the new 630kVA transformer (No.01-2), the low-voltage cable will be laid down to the cable trench and connected to the new MSB-1-2 electrical panel.
Quang Anh is the general contractor for the turnkey construction of the project to upgrade the capacity of the transformer substation from 250kVA (22/0.4kV) to 630kVA (22/0.4kV) to supply electricity to the Asuzac (ACM) factory.
Project Name: Construction of 22kV Power Line and 400kVA Transformer Substation, including Low-voltage Cable Installation to MSB Electrical Panel at Asuzac Factory
Project Name: Upgrading the Capacity of Transformer Substation from 250kVA to 630kVA (22/0.4kV) Location: Street No. 8, VSIP Industrial Park, Thuan An, Binh Duong Voltage Level: 22kV Purpose: Production
The 630kVA transformer substation supplying electricity to the Asuzac factory located on Street No. 8, VSIP Industrial Park, Thuan An, Binh Duong was completed on November 1, 2021 to ensure continuous power supply for the factory's production activities. The project included turnkey construction of the 22kV power line and 400kVA transformer substation, as well as the installation of low-voltage cables to the MSB electrical panel at the factory.
Technical specifications of the 630kVA Transformer Substation:
Transformer capacity: 630kVA (new installation) Voltage level: 22/0.4kV Δ/Y Substation location: Installed on an outdoor foundation.
On the medium voltage side:
Shared use of 01 Recloser 24kV – 630A (hh) reconfigured to protect substations 1 and 2 of Asuzac factory.
Existing 03 LBFCO 24kV – 200A + replacement of 65K fuse at the power supply pole (hh)
Existing 03 LBFCO 24kV – 100A + replacement of 20K fuse for transformer station operation management.
Photographing the primary side terminal of the transformer.
Testing of Thibidi 630kVA Transformer.
Low voltage side:
Use MCCB 3P-1000A combined with 01 Earth Fault Relay and 01 Overcurrent Relay to protect the factory (newly installed).
Busbar:
Existing Insulation: Existing Metering system: Current transformers (CT): 03 CT 65/130A – 24kV (newly replaced) Voltage transformers (VT): 03 VT 12000/120V – 24kV (existing) Watt-hour meter: Reconfigured Conductors: Phase conductors: Use 02 copper cables wrapped with 600V-CXV 1Cx240mm2 Neutral conductor: Use 01 copper cable wrapped with 600V-CXV 1Cx240mm2. Station grounding: Existing Low voltage capacitor bank: To ensure the power factor (cosj) of the new ³9 station, install a 250kVAr low voltage capacitor bank. Device terminal protection accessories:
The main electrical panel consists of an MCCB 3P-1000A in combination with one ground fault relay and one overcurrent relay to protect the plant (newly installed).
The grounding system and insulation are in place, and the measurement system includes three current transformers (CT) 65/130A – 24kV (newly replaced) and three voltage transformers (VT) 12000/120V – 24kV (existing).
The meters have been reconfigured, and two copper-clad 600V-CXV 1Cx240mm2 cables are used for the phase conductors, while one 600V-CXV 1Cx240mm2 copper-clad cable is used for the neutral conductor.
The grounding system is existing, and a 250kVAr low-voltage capacitor bank has been installed to ensure a power factor (cosj) of 0.93 or higher for the newly installed substation ³9. Protective accessories have also been installed for the equipment terminal.
630KVA Thibidi transformer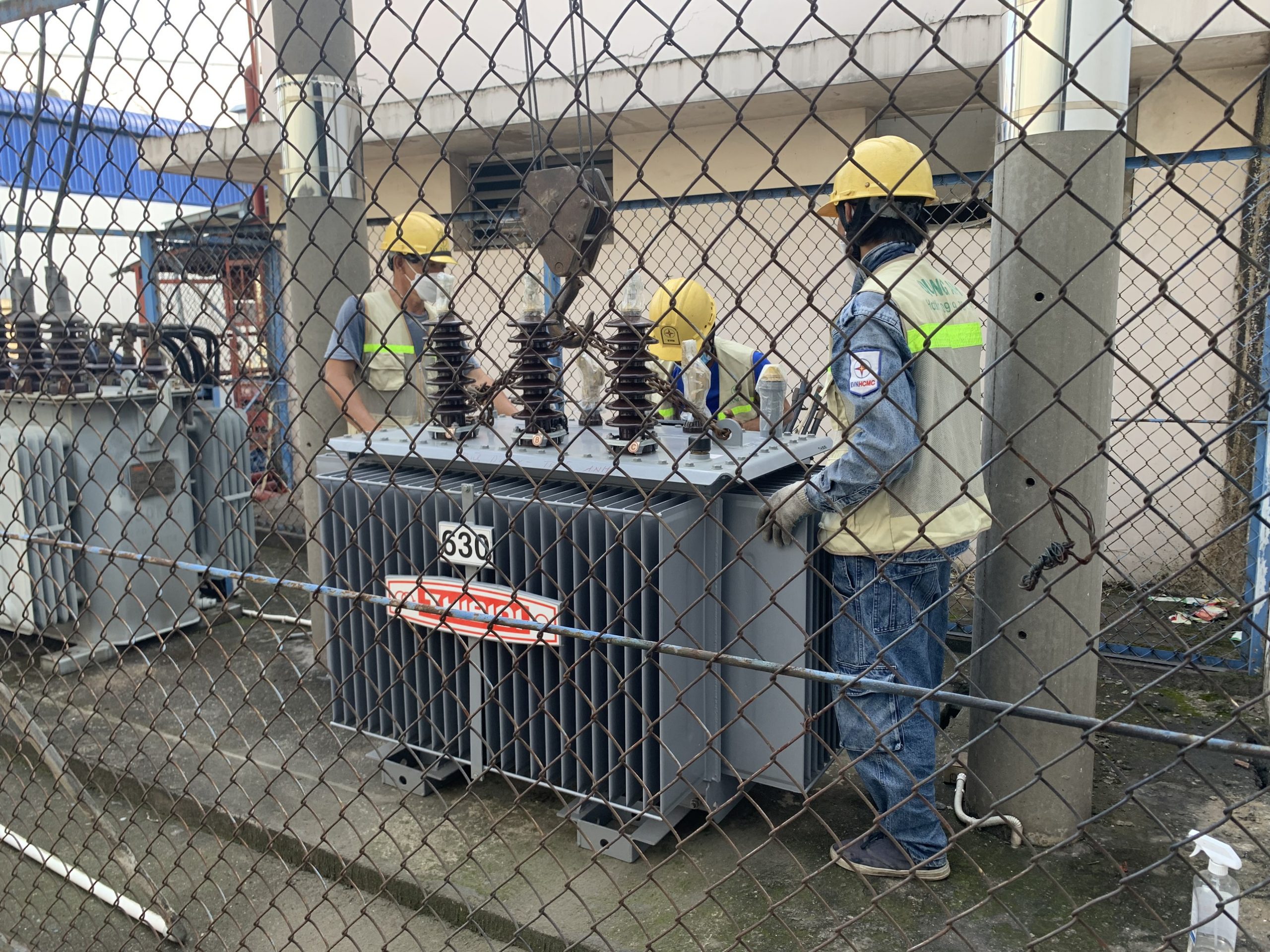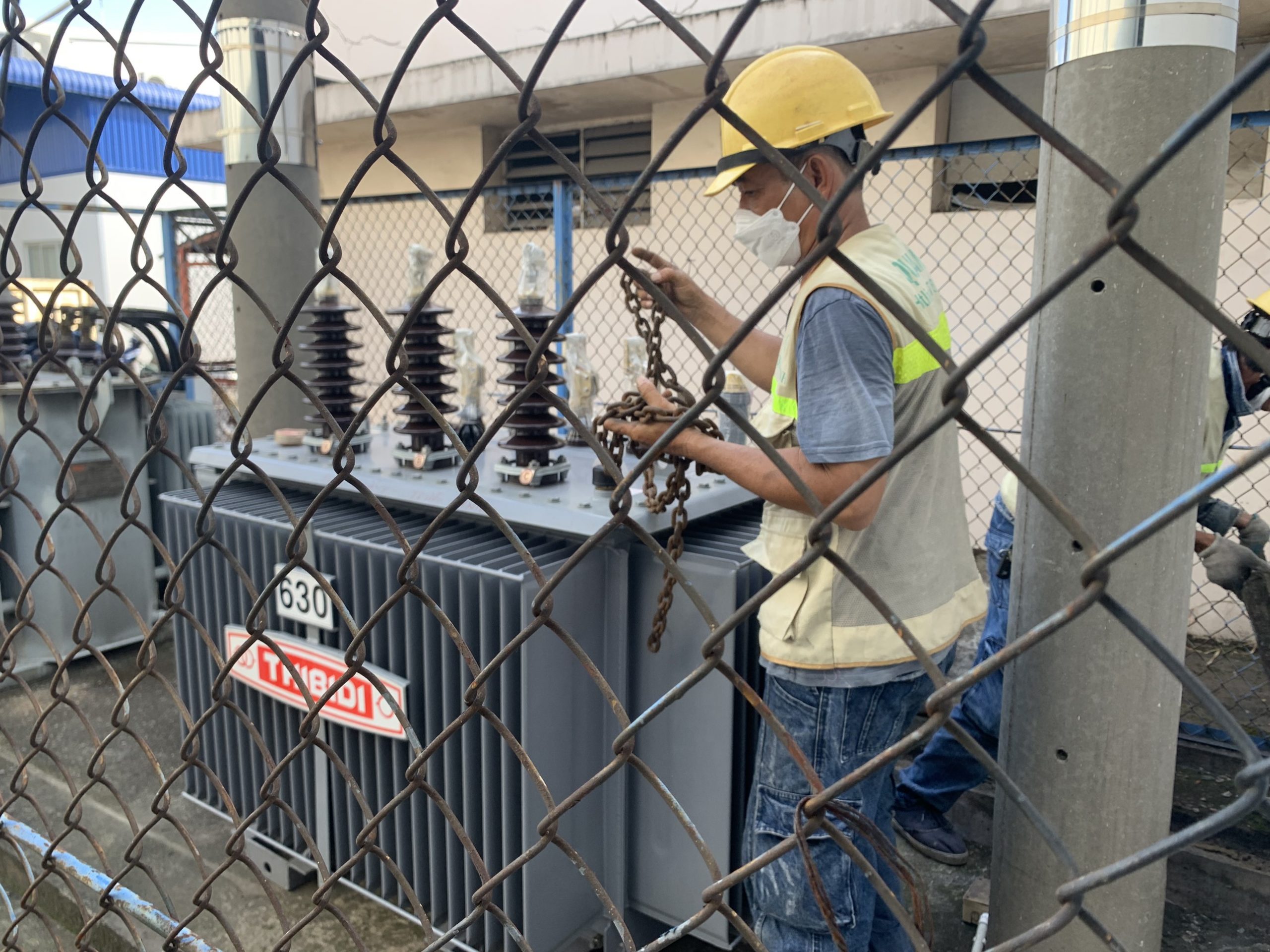 Installing Thibidi 630Kva transformer onto the station foundation using a crane.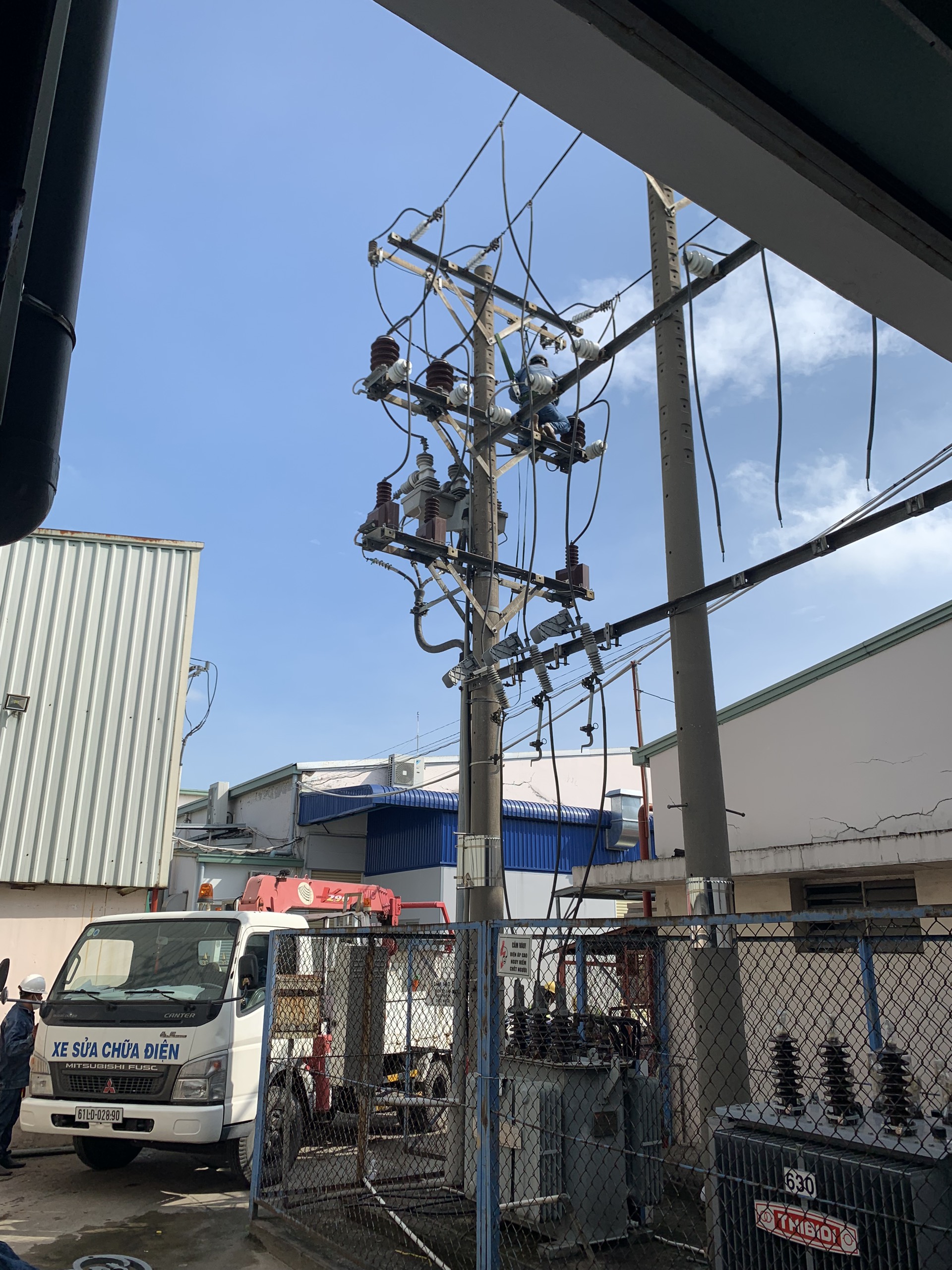 Reconfigure Recloser 24kV – 630A (hh) to protect station 1 and 2 of Asuzac factory.
Professional Electrical and Mechanical Services | Quanganhcons
Quanganhcons is a professional provider of electrical system and Substation construction. We specialize in providing solutions for power distribution and transmission systems, including design, installation, and maintenance services. Our experienced engineers and technicians are committed to providing high-quality services, ensuring the safety and reliability of our clients' electrical systems.
At Quanganhcons, we offer a wide range of services, including:
Design and installation of electrical systems for residential, commercial, and industrial buildings
Power distribution and transmission system design and installation
Maintenance and repair services for electrical equipment and systems
Testing and commissioning of electrical systems
Automation and control system design and installation
Renewable energy solutions, including solar and wind power systems
With our expertise and dedication to customer satisfaction, we strive to provide the best solutions for our clients' needs. We prioritize safety, quality, and efficiency in every project we undertake. Contact us today to learn more about our services and how we can help with your electrical and mechanical needs.
QUANG ANH CE CO.,LTD
Website: https://thicongtrambienap.com
Youtube channel: Quanganhcons
Address: 2nd floor, I2 Building, 236/26 Dien Bien Phu Street, Ward 17, Binh Thanh District, Ho Chi Minh City
Hotline: 0919758191
Email: sales@thicongtrambienap.com
Tax code: 0316365712