Turn on the electricity of the 1000KVA Transformer Subtation in Duc Hoa, Long An
Quang Anh Electrical Construction and Consulting Company was established in Vietnam. We specialize in advising, designing, and constructing power lines up to 35KV and complete transformer stations with high quality, technical requirements, and timely delivery. Quang Anh is currently growing and expanding rapidly with experienced leadership, young, enthusiastic, and dynamic employees. We have held many important positions in major companies and corporations and have participated in designing and constructing many power lines, transformer stations, and various industrial electrical cabinets, achieving high efficiency.
Our quality policies:
We provide genuine materials and equipment with full CO and CQ certification. We construct power lines and transformer stations with a high sense of responsibility, ensuring timely delivery and quality for investors.
Our construction techniques and methods are always updated to suit each project's specific characteristics. We are always willing to support our customers with any difficulties and questions. Our prices are competitive, ensuring the highest economic efficiency for investors.
Our company's leaders and employees are determined to implement the above quality policies.
Project Information
Below is detailed information on the turnkey construction project of the 22KV power line and 1000KVA transformer station for a solar power plant in Duc Hoa, Long An.
Quang Anh Electrical Construction and Consulting Company has just completed and accepted the power delivery on December 30, 2020.
The Dai Dung II steel factory, a high-tech mechanical engineering joint-stock company, is located in Binh Tien 2 hamlet, Duc Hoa Ha commune, Duc Hoa district, Long An province.
Project information: 0.98MWP rooftop solar power project Project name: XDM 22KV power line & 1000KVA transformer station for Dai Dung II factory Location: Binh Tien 2 hamlet, Duc Hoa Ha commune, Duc Hoa district, Long An province Connecting voltage level: 22KV Purpose: Solar energy sales Completion date: December 30, 2020 View the full package construction price via the link below.
Main work
Removing the old poorly performing BTLT (overhead power transmission) pole that doesn't meet technical requirements.
Transporting a 14m BTLT pole using a 3.5-ton crane truck to the 1000kVA transformer substation construction site.
Installing the 14m BTLT pole at the foundation of the 1000kVA transformer.
Adjusting the 14m BTLT pole.
Strengthening the foundation of the new 14m BTLT pole and pouring the concrete foundation.
Installing a 16mm grounding rod, 2.4m long.
Pouring concrete for the pole foundation and transporting the material, which is a 75x75x6x2.4m steel beam with four plates, to the installation location.
Installing equipment and cable connections.
Installing a porcelain insulator using a 16×300 bolt with long teeth.
Preparing the CX 25mm2 cable connection.
Installing a 24kv polymer suspension insulator.
Completing the installation of the equipment for the 75x75x6x2.4m line, including four plates, a 75x75x2.4m composite beam, an 18KV LA, a 100A polymer LBFCO, and a 24kv line post porcelain insulator.
Transporting the line equipment material to the installation location, including low and medium voltage cables and 22kv cable connection accessories.
Measuring the medium voltage transformer substation grounding resistance (TU) and insulation resistance (TI).
Since this is a full solar power project, the investor will equip themselves with six measuring sets, including three 24KV 12000/120V, 15A, C0.5, dry-type, epoxy-cast, vacuum, outdoor transformer units (TU) and three 24KV 25/5A, 10VA, C0.5, dry-type, epoxy-cast, vacuum, outdoor current transformers (TI).
Received and directly lifted the 1000KVA transformer from THIBIDI factory to ensure the construction progress and completed the electrical connection of the project before the FIT 2 deadline on December 31, 2020.
Transported the 1000KVA transformer to the construction site using an 8-ton crane truck, and lifted the transformer into position for installation.
Installed 1000KVA transformer, 1600A 65KA ACB cabinet, and 9 MCCB 200A 30KA to the designated location, completed the electrical connections, and finished the construction. Inverter 110KW was also integrated into the system.
The power company connected the CVV 4x4mm2 cable, completed the substation, and conducted final inspection and electrical connection for the 1000KVA substation.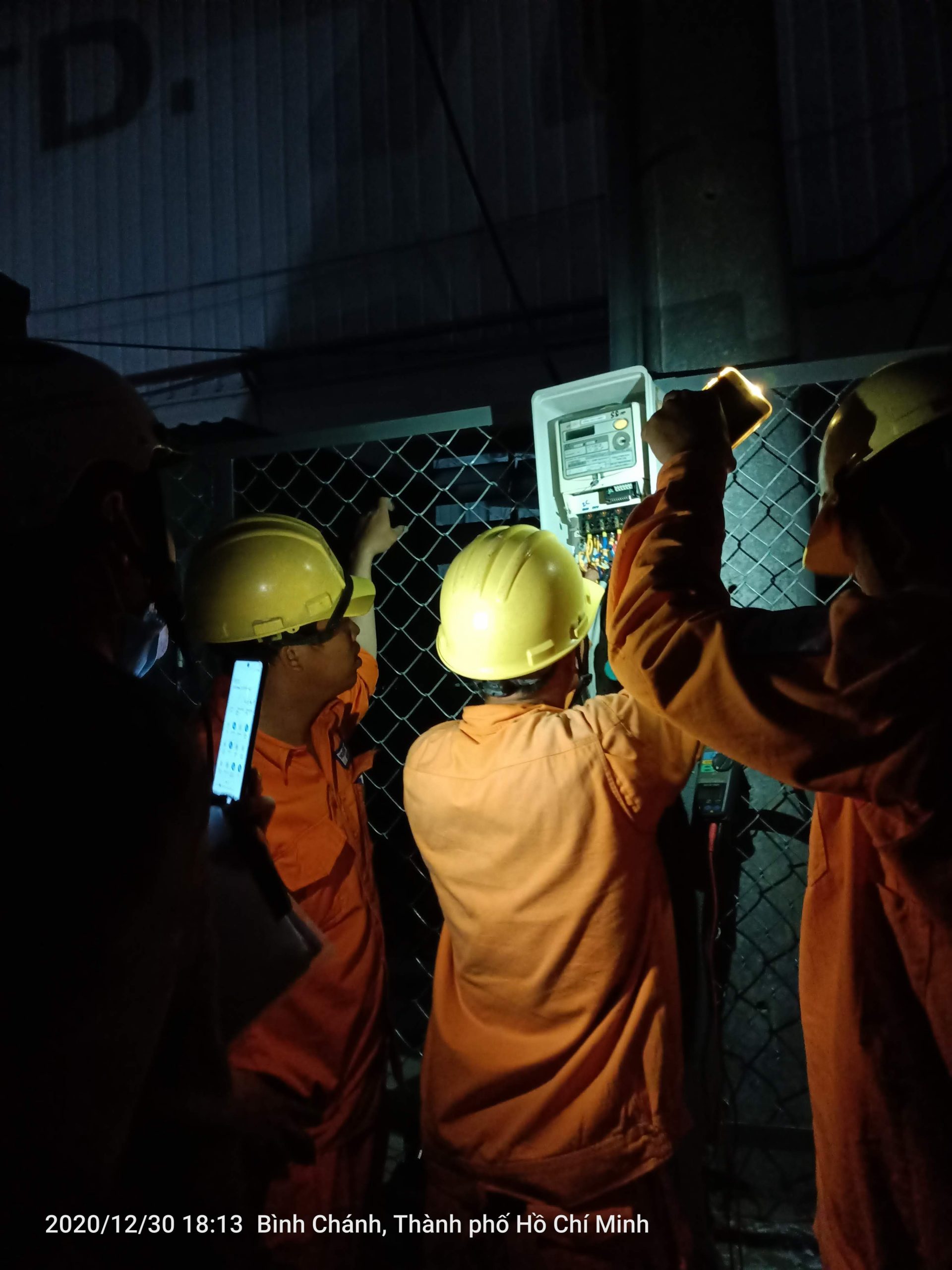 Duc Hoa power company installed a two-way electricity meter and a meter box. 
The project of constructing a 22KV transmission line and a 1000KVA substation was completed by Quang Anh Electrical Construction Company, handed over to the investor and put into use on December 30th, 2020 after final inspection and electrical connection.
Are you looking to building the transformer substation and install a solar energy system for your home or business?
Do you need a professional and reliable company to do this? Contact Quanganh now for dedicated support.
We provide high-quality and fast-paced solar energy system installation services. We commit to using high-quality products to ensure stability and efficiency for your system.
In addition, we also offer a complete package for constructing a 1000KVA 22/0.4kv substation with the highest quality standards. We ensure a fast construction schedule and timely completion of the project.
With experienced and dedicated technical staff, Quanganh commits to bringing customers satisfaction and peace of mind about our services. Please contact us via our Hotline: 0919758191 for advice and support.
QUANG ANH CE CO.,LTD
Office: 41F/22 Dang Thuy Tram Street, Ward 13, Binh Thanh District, Ho Chi Minh City, Vietnam
Hotline: 0919758191
Email: sales@thicongtrambienap
Website: thicongtrambienap.com –  Youtube channel: Xây Lắp Điện Quang Anh 
Tax code: 0316365712
Construction Images